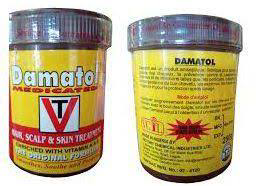 Damatol medicated is not just seen as a good hair cream but have to be the best hair cream for hair growth and treatment. Damatol is medicated, antiseptic formulated to promote hair growth and prevent hair damages or Infections. It also treats scalp Infections such as dandruff, ringworm, scalp itching, ezcema barbing Infections and bumps (pimples)or rashes aftershave.
This effective product is proudly made in Nigeria, by victory chemical industries ltd. Which is located in Lagos by 4, Barracks road, off car wash bus stop.
Ingredients
Damatol the best hair cream for growth and treatment is made with the following ingredients; petroleum jelly, mineral oil, lanolin, peppermint oil, coconut oil, menthol, sulphur and damatol concentrate.
How to Use
It's is very simple to use. Apply damatol gently and liberally to hair and skinscalp with the fingertips. Style hair as usual and use daily for best results.
Benefits of Damatol to the Hair
Some of the benefits of using damatol the best hair cream for growth and treatment are as follows;
Improves Hair Growth
Damatol contains essential oils and nutrients that Improves hair growth which includes; peppermint oil, coconut oil, sulphur and vitamin A. These ingredients contribute in one way or the other to fasten and improve hair growth.
Peppermint and coconut oil not only improves hair growth, they also increase hair thickness, number of hair follicles, depth of the follicles, nourish the scalp and help to remove sebum build-up from hair follicles. Vitamin E is also a natural antioxidant can assist with maintaining hair growth by reducing the amount of oxidative stress and free radicals that cause the hair follicle cells in a person's scalp to break down.
Also read: 12 Simple Ways To Care And Maintain The Hair
Powerful Uses of Aboniki Balm and Ingredients Present
Hair Treatment
Another important ingredient in damatol that makes it the best choice is lanolin. Lanolin is a powerful anti-inflammatory and occlusive ingredient. This helps to prevent the evaporation of water from the skin and hair, making the hair more moisturized and more manageable.
Menthol also in damatol medicated regulate oil production, remove dandruff buildup, eliminate or reduce the number of lice and nits in the hair.
Treatment of Skin Infections
Mineral oil together with other oil have proven to be effective in treating skin Infections such dandruff, ringworm, scalp itching, ezcema barbing Infections.
Related Posts: Home Remedies For Head lice Treatment
Common Barbing Infections and Prevention
12 Simple Ways To Care And Maintain The Hair
Powerful Uses of Aboniki Balm and Ingredients Present
10 Wonderful Benefits Of Papaya (Pawpaw) To The Body