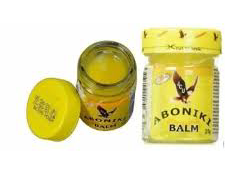 Aboniki balm is one of the local Nigerian products that is making waves lately. Because of the wonder packed active ingredients, the aboniki balm has gained a lot of uses. Some of the uses of aboniki balm includes; relief for arthritis, back pain, joint or muscle pain, skin disorders, bruising, migraine headache, hemorrhoids, muscle or joint ache, itching, and Pother conditions.
The balm has grown pass normal household essentials or commodity in Nigeria as it has gained recognition in Africa and international markets.
What is Aboniki balm made from?
The wonder working African balm contains the following ingredients;
Menthol BP 6.10%
Camphor BP 5.04%
Methyl sal BP 5.04%
Eucalyplus BP 2.30%
Ointment base to 100.00
Vitamin B1 0.5mg
Vitamin B6 0.5mg
Vitamin B2 0.5mg
D-Panthenol 0.5mg/ml
Surprising Uses of Aboniki Balm
The following are some of the known health benefits from the uses of aboniki balm;
Cold Relief
The use of aboniki balm to relief cold has been proven to be one of the fastest possible method for cold. Just a gentle rub or massage with the balm, can get you warm and sweaty again when the temperature is cold.
Aboniki balm does not just relief cold, it also addresses cold symptoms like; congested nostrils, catarrh, or even sore throat. Adding Aboniki in your steam inhalation can clear your nose and get you active again.
Pain
Relief
The commonest uses of aboniki balm is for pain relief. This is done by gently rubbing or massaging the painful or swollen area of the body with small amount of the gel. The amount of gel needed will vary depending upon the size of the painful or swollen area. The effects of Aboniki balm extend to Arthritis, simple backaches, sore muscles, joint pains, leg cramps, strains, and joint pain relief. The effects kick in very fast, with a deep penetrating pain relief that lasts up to 20 hours.
To get the best result from the use of aboniki balm, make sure to apply twice daily (morning and evening) to last all day because the gel creates a reservoir of diclofenac when applied regularly according to instruction.
Improves Hair Growth
Another wonderful benefit from the use of aboniki balm is its ability to tackle hair problems. When you apply the balm same way you apply other hair creams, it will stimulate and increase your hair growth.
Aboniki balm has also been helpful in treating hair infections like dandruff and ringworm. You can mix it with your favourite hair creams or use it alone. Apply generous amounts of it across your head and massage it into your scalp daily to see surprising results.
Burns belly fats and aid weight loss
For people with excess belly fat or weight problems due to too much stomach tissues, the good news is that aboniki balm is a highly effective natural fat burner. This is especially true if you're a nursing mother dealing with post-delivery belly fat and you're looking for a way to get back in shape without difficult exercises.
Aboniki Balm uses its deep heat action to dissolve excess fat in the belly, and this action sets in when used alone or with warm water. To achieve the best result, rub the balm generously all over your belly and massage it deeply in clockwise motion using your palm. Do this at least two to three times a day and within 3 weeks, your excess fats will be all gone.
Treatment of skin Infections
Aboniki balm has been successfully used to treat a wide range of skin disorders. Some of the skin disorders includes; pimples, rashes, and other skin inflammation problems. All you need to do is simply rub it on the point you need it and watch out for the soothing benefits at the site of pain and inflammation. Though it would feel hot at first, but this effect would soon cool down.
Insect Repellant
One of the underrated uses of aboniki balm is as insect repellant. The balm produces a strong scent that is not comfortable with insects and some animals. To use the balm as an insect repellent, apply it to your legs or arms, and you are assured of maximum protection for your camping trip.
This is also beneficial for long walks, travels, or a hike in the wild. It also stops the itching and pain that comes from previous insect bites. You just have to apply them gently on the affected area, without using much pressure, as you will do to a sprained ankle.
Side effects of Aboniki balm
The greater part of the attention is always to the benefits or uses of aboniki balm. It is also important to know that these below side effects could result from the use of aboniki balm;
Burning sensation at the site of application
Nausea
Skin irritation
Vomiting
Ataxia
Drowsiness
Condition of involuntary eye movement
Coma
Restlessness
Always consult your doctor before use and if pain and swelling do not improve within 7 days.
Note: Do not use the gel for longer than 14 days unless longer treatment has been recommended by a doctor. The gel is not recommended for use in children under 14 years of age except recommended by a doctor.
Related Posts: 10 Health Benefits Of Bitter Kola You Should Know
Health Benefits of Ogiri Okpei, Uses and Side Effects