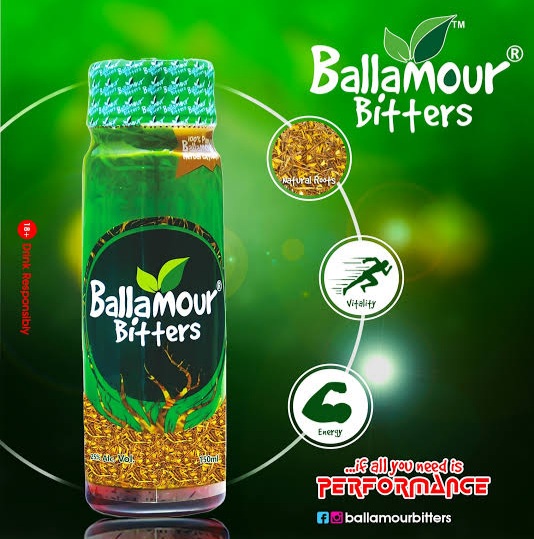 One of the fastest rising product in the bitter or gin brands lately, is the balamor bitters drink produced by easterndistilleries The plant herb extract has become the customer's choice because of its cheap price, availability and unmatched health benefits enjoyed by drinkers of ballamour bitters.
Markets and stores are flooded by many brands of bitters and they enjoy high patronage because of their consumer's demand. Some of the notable bitters include; Ballamour, Yoyo, Alomo, Orijin, Agbo, Action, Washing and Setting, Baby-Oku, Skelewu, Man-Power, Swedish, Goko Cleanser Ruzu, kola nuts, bitter kolas as well as Chinese and India bitters, among others.
Ballamour bitters Ingredients
A blend of ballamour bitters, a natural root extract and pure botanical seasonings. Hygienically prepared to offer you a lingering mouth-feel and keep you ecstatically charged all day long. Contains the following ingredients;
Ballamour root extracts
Food grade ethyl alcohol
Deionized water and
Caramel
Health Benefits of Ballamour Bitters
Ballamour bitters drinkers enjoy a wide range of health benefits from the plant herbs extract which includes;
Improves the Guts Health
Ballamour bitters like other gins and bitters drinks are packed with a challenging flavor of bitterness. This bitter flavour contributes to their health benefits, as it helps strengthen the digestive response and enhance the secretion of the body's natural digestive juices which in turn optimizes digestive function.
Bitter herbs have long been used for soothing gas and bloating, relieving nausea and occasional heartburn, encouraging digestive secretions, and gentle detox. Natural bitters when consumed, whether eaten directly from the plant or made into a bitters drinks stimulate bitter receptors in the tongue, stomach, pancreas, and gallbladder  to promote the development of healthy digestive juices like bile, stomach acid, and enzymes that contribute to the breakdown of food and the absorption of healthy nutrients.
A nutritionist Mrs. Margaret Ogene, said bitters could aid digestion, reduce indigestive discomfort and improve the daily function of the digestive system.
Aids Blood Circulation
The commonest believe of all bitter drinkers is that it cleanse the body systems. Yes, bitters help to flush the body system but bitters are not a primary treatment. The water and antioxidants in ballamour bitters promote cardiovascular health, may improve circulation because it leads to better absorption of nutrients and natural detoxification of the liver.
Improves Sexual Function
Ballamour bitters Improves sexual experience because it enhances libido in women and men. Alcoholic bitters generally, modulates sex hormones and some biochemical parameters of testicular function in men. Studies have shown that bitter drink which ballamour bitters is part of, has the ability to combat oxidative stress and enhance synthesis of sex hormones through cholesterol upregulation in the testes.
Also read: Easy Ways Men can Improve Sexual Performance
Local Way To Last Long ln Bed Without Side Effects
Controls Body Sugar Craving and Appetites
The bitter herb extract, helps control sugar cravings in the body quickly by countering the brain receptors that drive us to consume sweets. Ballamour can regulate stomach acidity and manage blood sugar. It can also promote overall healthy eating habits and reduce overeating . Consuming bitter foods stimulates the production of PYY and GLP-1 hormones, which help control and suppress appetite.
Boost Immune System and Reduces Body pain
Ballamour helps strengthen our immune systems and reduce body pain. Obviously, bitter herbs are known to support and retrain the body to work the way that it was designed.
Mr. Alade who is a commercial bus driver plying the Ayobo – Iyana Ipaja route said "bitters is perfect for fatigue and body pains. If he doesn't take it in a day, he will not be okay. It gives me the energy to stay strong while I do my work." When asked how many times he takes it in a day, he says, "I can take like it like four times in a day, depends on how stressful my work is."
Side Effects of Ballamour Bitters
The side effects associated with ballamour bitters comes from excessive continous intake. Since there is no specified dosage, and like other bitters can be addictive and cause intoxication.
Although so many testimonies are carried about ballamour. More research be carried out on herbs used for the bitters to know their scientific efficacy, in order to avoid adverse effects. Dr. Femi Olayiwola from Ogun State, has this to say, "bitters are dangerous to the kidney. According to him, excessive intake of either the refined or localised made bitters can burn fat beyond limit, leading to weight loss and destroying the internal system beyond repair. He says all bitters contain ethanol, which he says leads to shortage of blood."
Related posts: 10 Health Benefits Of Bitter Kola You Should Know
Powerful Uses of Aboniki Balm and Ingredients Present
5  Benefits Of Taking Alcohol You Should Know