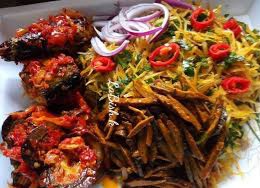 Abacha popularly referred to as African salad is a delicious Nigerian meal that is native to Igbos particularly Enugu people. Abacha is widely eaten because it is not cooked and very easy to prepare with nutritious ingredients. But not being cooked, brings reasons not to eat abacha daily.
African salad is made from dried, shredded and fermented cassava. And prepared with leaves of garden egg, garden egg, stockfish, castor bean, sweet palm oil, sliced onions, utazi, fried fish, smoked fish, kanda, boiled egg or stockfish. It is served at traditional Igbo gatherings and can be enjoyed as a snack, dessert, appetizer, or a full meal any time and day.
Nutritonal Content of Abacha
Abacha contains some important body nutritonal requirements like
sodium, calcium, potassium, magnesium, iron, zinc, Vitamin A, Vitamin C
Cassava is known as a great source of Riboflavin, thiamine and niacin. The combination of ingredients and other tasteful spices makes Abacha a balanced diet.
Also read: How to use akamu for ulcer Treatment
Factors to consider when choosing a Restaurant in Nigeria
Reasons not to Eat Abacha Daily
Below are medical reasons not to eat abacha daily;
Spread of Waterborne Diseases
Everyone that eats abacha that is not carefully and neatly prepared by him/herself stands the risk of contacting Waterborne diseases like cholera, Typhoid Fever, Dysentery, Salmonella, Hepatitis A etc. The contamination may come from the abacha, ingredients or improperly washed leaves often used for the preparation.
Health experts always advise patients to be mindful of the maker and the processes by which the African salad is made. The best way to avoid these diseases is simply not to Eat abacha daily or avoid eating abacha not made by you.
Akanwu may Aggravate Hypertension
Powdered potash (Akanwu), an active ingredient used in preparing abacha is known to contain a high amount of sodium which poses as a health hazard to human beings. Research has it that Sodium intake from processed and restaurant foods contributes to high rates of high blood pressure, heart attack and stroke.
More reasons not to eat abacha daily may also be from the following health challenges caused by akanwu or potash which includes;
Abortion Induction in pregnant women. During pregnancy, women are highly advised to refrain from taking any kind of potash concoction.
Potash reduces the protein content of food when used as a tenderizer.
Too much intake of potash by men predisposed them to low sperm production.
Regular intake of potash is unfriendly to the kidney and liver.
Not Good for Weight Loss
Another reason not eat abacha daily is because it contains much calories of about 380 in 100 grams, which makes it a bad choice in weight loss food plan.
Eating abacha daily should not be advisable unless you are looking forward to gain weight.
related posts: 5 Amazing Health Benefits of Eating Ewa Agoyin
Breakfast Combo: Naija Delicious Food to Eat with Akamu
Dietary Habits That Help You Lose Weight
Okra Water Sexual Benefits and Side Effects
Important Health Benefits Of Cucumber To The Body
Health benefits of ballamour bitters and side effects