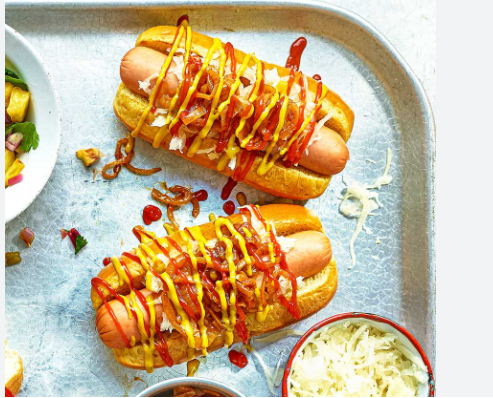 Over the years, hotdog has become one of the most eaten fast food in America and has also gained popularity across every part of the world. The rate of consumption will make one ask the question is Hotdogs good for you?
What is hotdog?
Simply, hotdogs are processed meat product made by mixing chopped meat with various curing ingredients, flavorants, and colorants. The main content (ingredient) in hot dogs is usually the meat. Pork and beef are the traditional meats in hot dogs, although poultry like chicken and turkey can also be used.
Difference Between Hotdog and Sausages
Obviously, hotdogs and sausages are both types of processed meat products, but there are some differences between them. Hotdogs are a specific type of sausage that is usually made from a mixture of finely ground meats, often pork and beef, and seasonings. They are typically encased in a long, thin casing and are commonly served in a bun.
Sausages, on the other hand, are a broader category of meat products that can come in various shapes, sizes, and flavors. They are usually made by combining ground meats with spices, herbs, and other flavorings. Sausages can be encased in natural or synthetic casings, or they can be formed into patties or links.
In essence, a hotdog is a type of sausage, but not all sausages are hotdogs. Hotdogs are a specific subtype of sausages that are often associated with their distinctive shape and style of preparation. Also, it's important to know that the type of sausage we use in a hot dog is a wiener or a frankfurter.
Hotdog's Nutritional Value
The nutritional value of hotdogs can vary based on the specific ingredients and serving size. They are high in protein, sodium, saturated fat, and cholesterol due to the processing methods and ingredients used. Hotdogs are not a significant source of vitamins and minerals. However, they contain small amounts of vitamin A, iron, vitamin B12, vitamin B12, and calcium.
Generally, they are not considered a healthy food option. If you're looking for a more nutritious option, consider lean protein sources and whole-grain buns
Health Benefits of Hotdogs
More number of health benefits can be seen in hotdogs when you consume a brands that are nitrate and nitrite-free, organic, or that has been boiled for at least five minutes. It's also important to avoid eating hot dogs that are charred or blackened in order to enjoy the following health benefits;
Hotdogs are rich in Protein
One important benefit of hotdog, is due to its high protein content. The proteins in hotdogs can benefit the body in the following ways;
helps to build and repair body tissues
produce enzymes and hormones
helps in boosting the immune system
promote the growth of healthy bacteria in the gut, which is beneficial.
It is important to know that opting for leaner protein sources and whole foods is generally a better choice for promoting health.
Source of Vitamins
Two important vitamins B6 and B12 needed by the body is richly found in hotdogs. These vitamins helps to convert food to energy, helps in production of red blood cells, helps the body absorb nutrients, boost immune functions.
A lack of vitamins B12 and B6, can lead to fatigue, anemia, and a weakened immune system.
Is Eating Hotdogs Everyday bad?
Of course one can say it's bad, since nobody would ever recommend that. This is because of the high sodium, saturated fats, and processed ingredients contents, which can contribute to health issues if consumed excessively. A balanced and varied diet is generally better for your overall well-being.
Hotdogs Side Effects
It's not new that hotdogs are an enticing and delightful food to eat, but have you ever wondered about the hidden side effects that might come with eating it? Let's shed some light on the potential consequences they might bring.
Increased Cancer Risk
Consuming hotdogs has been associated with an increased risk of cancer, particularly colorectal cancer. This is due to the presence of certain additives and chemicals used in the processing of hotdogs, such as nitrates and nitrites. When these compounds are heated, they can form harmful substances called nitrosamines, which are known carcinogens.
Increased Risk of Cardiovascular Disease
Hotdogs are often high in saturated and trans fats, which can raise levels of bad cholesterol (LDL) and contribute to the development of cardiovascular diseases. Additionally, the high sodium content in hotdogs can lead to high blood pressure, a major risk factor for heart diseases.
Increased Diabetes Risk
Hotdogs are processed meats that can be high in unhealthy fats and carbohydrates. Regular consumption of such foods may contribute to weight gain and obesity, which are risk factors for type 2 diabetes. The additives and preservatives in hotdogs may also affect insulin sensitivity and contribute to diabetes risk.
Allergen Concerns
Hotdogs often contain various ingredients, including additives and fillers, which could trigger allergies or sensitivities in some individuals. Always read labels carefully if you have allergies to avoid any unpleasant surprises.
Digestive Discomfort
The combination of processed ingredients and high fat content might lead to digestive discomfort for some individuals. If you're prone to digestive issues, consider how your body reacts to hotdogs and adjust your consumption accordingly.
Conclusion
It's important to note that moderation is key. If you enjoy hotdogs, consider opting for healthier alternatives and consuming them in moderation to minimize potential health risks.